WildFly 8 is a... Java EE 7 application server? But JBoss AS 7 is a... Java EE 6 application server? Like EAP 6? Naming and version numbering has lately confused the JBoss Community. But a picture (from our Fastlane WildFly courses) says more than thousand words: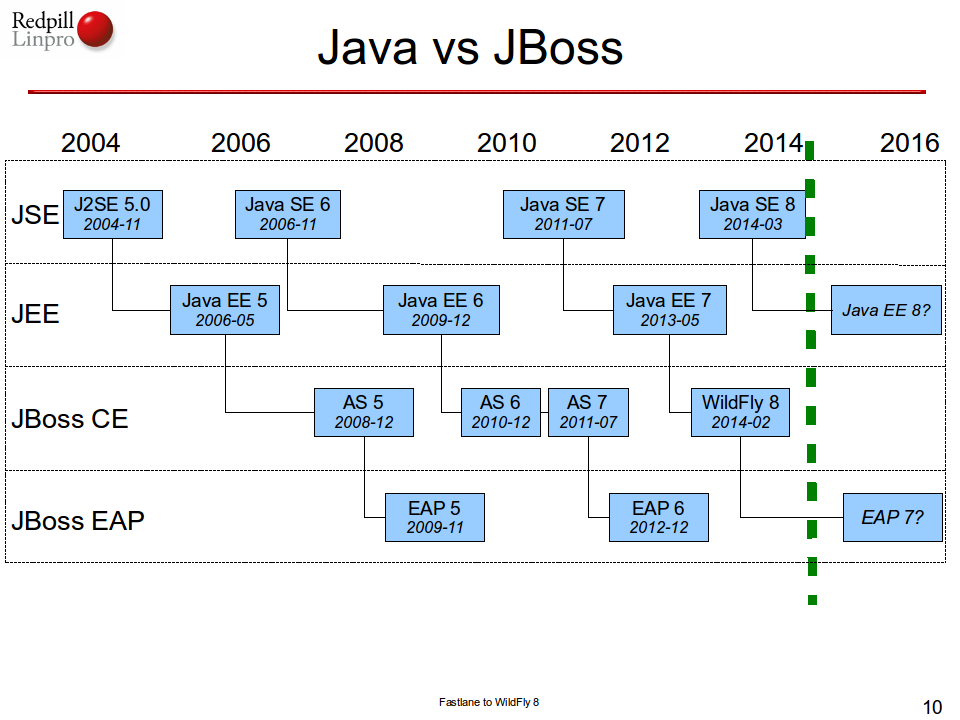 It's like a waterfall: A new Java SE version comes out (JSE swimlane), JCP then creates a corresponding Java EE specification (JEE swimlane), once that's done the JBoss Community starts working a Open Source Community Edition of that EE specification (JBoss CE swimlane), after that RedHat will create their own EAP distribution based on one Community version (JBoss EAP swimlane). Since this whole cycle may take up to 6 years, it's inevitable to not overlap the swimlanes.
Two notes:
JBoss (CE) AS 6 and AS 7 were created in parallell. From the outside, they look almost the same - AS 6 is EE 6 Web Profile certified application server, AS 7 is a EE 6 Full Profile certified application server. However, AS 7 is a major (and awesome) rewrite of the core of the application server, hence the major bump was needed in the version.
The word "JBoss" was earlier used in many different contexts - it could target the community developing currently 106 projects, or the super-sweet community application server, or the RedHat alternative. So the community edition was renamed to WildFly, but make no mistake - WildFly 8 and AS7 are simply two versions of the same beast.
So if your looking information about the magnificent community version, google for WildFly downloads or WildFly JIRA. In fact, your better avoid the word "JBoss", because links e.g to WildFly Downloads are well hidden on Jboss.org - you won't even find the binaries anylonger on the download page.
Redpill Linpro provides services for (what was earlier called) JBoss community editions - and the latest and greatest is WildFly 8.1.
br,Jens