2017-10-01
API Economy is the talk of the town at the moment. And no wonder. Through API Economy we are introduced to phenomena such as API led Connectivity, API Management and API Strategies. And as often with new technical progress we find a lot of people talking about it but not understanding how it will affect us and our businesses. So what does it actually mean?
Well so far, there is one solid conclusions we can draw from all the analyst reports, conference talks and new companies that have burst out on the global market recently – and it is that API Economy certainly will affect us and our businesses one way or another.
How to handle API's
As API Economy is here to affect our daily work and business lives, it is important to be ready and knowledgable to properly understand the drives, opportunities and potential pit falls of API. We basically need a strategy and action plan in order to properly handle API's within our individual organizations based on our specific business needs.
Many have already done their homework and begun creating their API strategies, others haven't gotten started, some aren't even in the ball park and a few model students – have it all up and running already. Where are you in this process?
Now, to evaluate your need and build a strategy when you aren't quite sure how it works – can be daunting. And as with all things in life, it helps to have a knowledgeable guide by your side in this process. And we like to think that this is where we come in.
Steps for success
Here at Redpill Linpro, we have been working with API's and API Management for several years and have seen our fair share of implementations and API-strategies. We have seen what worked and most importantly what didn't work and have boiled down these, sometimes hard won experiences, to a model that we find works for pretty much every kind of organization, no matter where in the API process you are.
The API Ready model is packed with best-practices, know-how and knowledge that will help you define a strategy, design, implement, visualize, manage and get the full effects from your API implementations. The model also comes with a set of defined steps with everything you need to be successful on your API journey.
API Marketing Model
The API Ready model is the tool for you who wish to use API's in order to power and empower your business. But sometimes it isn't easy to know where in the process you are. And that's what our other tool - the API Maturity Model is for. This tool helps you analyze where you are today and what areas may need further work to make your strategy successful.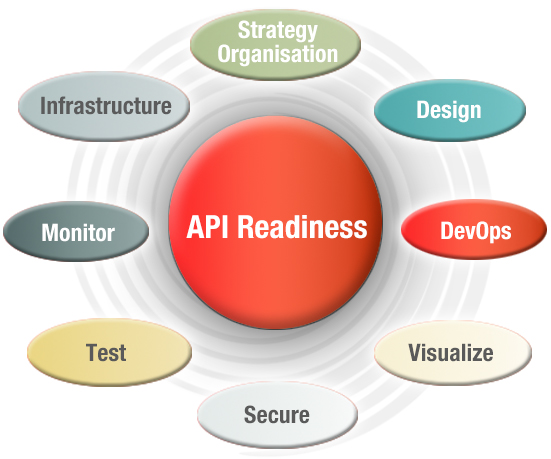 Here you get a little sneak peak of the different steps in the model and you can get hold of our API Ready model by simply staying in touch. We will introduce each step of the model on our blog so make sure you get a heads up through our newsletter, LinkedIn or Twitter accounts.

Written by
Fredrik Svensson