Customer: Trap Danmark
Sector: Publishing/Media
To manage the process of collecting articles from thousands of authors all over Denmark, an efficient computerized solution is absolutley critical to Trap Danmark. The Single Source Publishing solution internally called "Alf" is based on the Open Source ECM Alfresco.
Delivery
Redpill Linpro have delivered the "Single Source Publishing" solution internally called "Alf" to Trap Danmark. The solution is based on the leading Open Source ECM solution Alfresco. Redpill Linpro have been responsible for managing the development project, developed requirements together with Trap Danmark and delivered these in an agile project model based on Scrum. Trap Danmark have assigned a project group with dedicated resources to work closely together with Redpill Linpro consultants to develop a solution for "Single Source Publishing".
The new "Single Source Publishing" solution will add a number of requested functions to Trap Danmark such as:
Support for fully computerized and automated processes to send orders for articles from writers spread all over Denmark, as well as collecting these on time for peer review and later publishing. 
Fully integrated processes for article collection, editorial review and publication. 
Tools and dashboards to easily monitor the status of articles and editorial reviews. 
Integrations with selected external parties to enrich articles with pictures etc. 
Customized processes to monitor progress of specific articles and assignments. 

Fully supported complex editorial process that covers thousands of collaborators nationwide (the complex process is described in picture 1) 
Traceability on all activities. 
Workflow management with automatic task management/assignment and control. (Dashboards for overview and control are described in picture 2)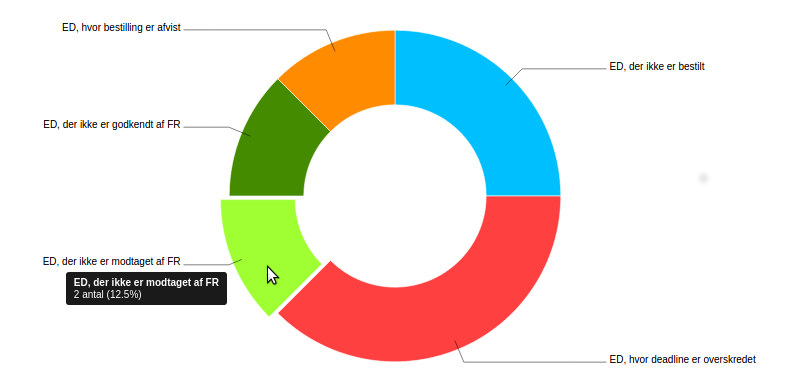 The Redpill Linpro delivery further includes responsibility for maintenance and operations of the implemented "Single Source Publishing" solution.
Benefits
Through this project Trap Danmark have access to a tool that will be absolutely critical to the success of the entire project. Managing the process of collecting articles from thousands of authors all over Denmark wouldn't have been possible without an efficient computerized solution. Not only will the Alfresco solution offer Trap Danmark the control and visibility to monitor the content production process, it will also enable Trap Danmark the ability to choose what information that are to be published where and at what time. This way the Alf project, as Trap Danmark has named the project, has delivered a solution that is not only fundamental to the production of vital information, but also provided the editorial staff with a "Single Source Publishing" solution that is unique in its design and support of editorial processes.
"Through the development and usage of "Alf" we have not only made it possible for Trap Danmark to communicate and cooperate with the thousands of collaborators spread all over Denmark that contribute to the Trap Danmark project. We have also created a solution for "Single Source Publishing" that I think many media organisations would be jealous of", says Erik Henz Kjeldsen, Head of Development at Trap Danmark.
"When we embarked on the journey to create the sixth edition of the Trap Danmark encyclopaedia of Denmark, we knew that we wanted to do something different and adapt the material of this outstanding work to the digital world and make it accessible for a wider audience. To be able to do this with the given budget and limited editorial staffing, we required a tool that was efficient in both the production and publishing processes. This is what we have achieved with our customized version of the Open Source Alfresco ECM system. We are also very happy with the partnership with Redpill Linpro, that have been a reliable partner for the length of the project and delivered this "Single Source Publishing" solution in a truly agile way", Erik Henz Kjeldsen finishes with a smile.
The challenge
The challenge with the Trap Danmark "Alf" project have been to adapt a generic ECM and document management solution to the requirements of the Trap Danmark complex production, editorial and publishing processes. Another challenge has been that this is new organisation that has been established for the purpose of the project. This meant that there were no established processes in place when the project started. The project had to be managed in a truly agile manner and processes were defined and worked out as the project and development went along. In a situation like this it is important to work with a system that is easy to develop and adapt, at the same time as it is important to establish a truly reliable relationship between System Integrator and Customer as these projects have a tendency of being a bit stretched. Trap Danmark and Redpill Linpro have managed to deliver a solution that supports complex production and publishing processes during these circumstances. That is a true achievement that can be made available for others, since the "Single Source Publishing" and content production can be adapted to fit with other similar processes.
The solution
A "Single Source Publishing" solution that supports the production, editorial and publishing processes of Trap Danmark sixth edition. The solution is developed, hosted and maintained by Redpill Linpro.
The result
The "Single Source Publishing" solution built on Alfresco Open Source ECM will be the backbone of the continued work with producing and publishing the content of the Trap Danmark sixth edition. Through Operations and Maintenance agreements with Redpill Linpro, Trap Danmark have ensured that the solution will always be available for its authors and editors to enable them keeping track with a tight publishing schedule.
More information
For more information on the project please contact any of the following persons.
Per Wennman - Redpill Linpro Solution Area Manager ECM +46 (0)768 85 35 24 per.wennman@redpill-linpro.com
Erik Henz Kjeldsen - Trap Danmark Head of Development Trap Danmark +45 5129 6549 ehk@trap.dk www.trap.dk