Agility, cost, competence and risk reduction are major factors driving organisations into using a professional partner for application management. We can provide a complete stack of application management services to support the entire software lifecycle. Application management is the natural continuation of any solution delivered by us, but can be delivered on any application based on known open source components and products.
Application Management Overview
Based on your business needs you can define your personal application management agreement to include any of the following components.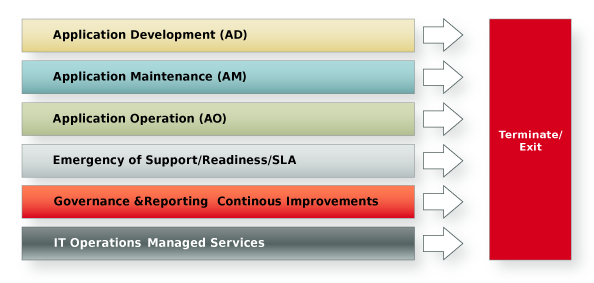 The components include processes supporting all your needs for application lifecyclye management. Our clients experience improved governance, internal processes, better version control and lifecycle management, higher user satisfaction and a project delivery performance above industry average.
We follow a systematically phased approach resulting in rapid problem identification and solutions. This also helps in preventing future problems and improving the functionality and further assists with application enhancement. Our engagement models ensure a smooth transition with the benefit of having a trusted and capable partner constantly by your side managing your requirements effectively. Our Service Level Agreements (SLAs) are tailor made, well-defined, enabling optimal operational performance. With a seamless interface between Application Management support desk and application support services, our professionals remain highly disciplined and responsive to client.
Application Development (AD)
Major changes to existing solution managed as individual projects based on Scrum.
Application Maintenance (AM)
Application maintenance covers change requests and enhancements approved by the client:
Sprint Management
Change Request  Management
Minor enhancements
Major Change Request
Interface modifications
Error correction
Release management,
Config management
Production setting
Application operations (AO)
Change of parametres
Import/export user data
Cleansing activities (users, date etc)
Tuning/optimalization
Minor adjustments required for normal operations
Critical error management
Warnings – if failure occurs or jobs to be run
Application administration together with IT operations
Operational meetings
Activities agreed with client
Governance and Reporting - Service Management
The Service management layer in the AM stack provides:
Frequent meetings with client's Service Manager
Reporting
Administration of change management
Allocations of resources
Planning/follow-up activities
Project management
Administration of 3 parties
Administration of Change Requests and approvals
Improvement of processes
Emergency of support/Readiness/SLA
Readiness/ emergency support A-Errors (4 hour, NBD, to be agreed)
Incident management
Problem management bugs, hot fixes, data fixes, patches
8/5 Support
Preventive  Maintenance
IT Operations
We provide end-to-end application management services as part of our standard service portfolio. We know how to maintain, develop, tune, monitor and operate your solutions in accordance with your needs and our high standards. The solutions through which we deliver Application Management services are based on Open Source components. We have special competence in these components, which means extra security and value for the customer.