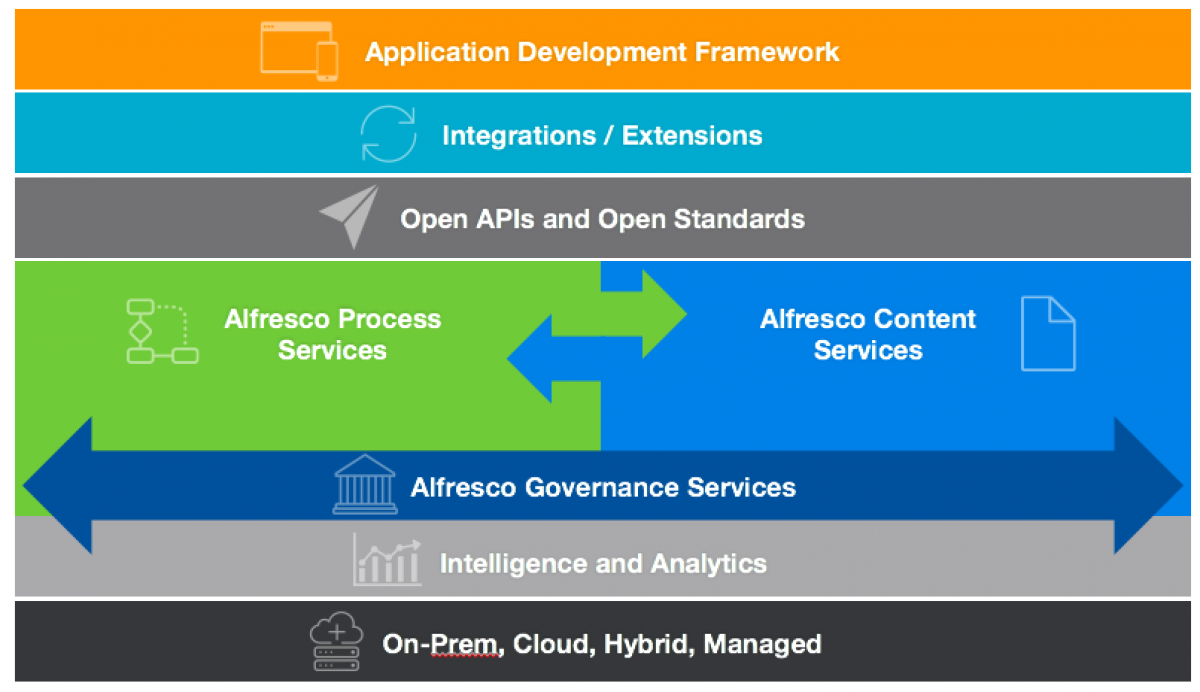 Alfresco Digital Business Platform is the open, modern and secure platform which intelligently activates process and content to accelerate the flow of business. The open, modular platform is easy to build on, integrate and extend for fast time to value and true digital transformation
Faster business flows, seamless and smarter 
Alfresco Digital Business Platform is available as a product bundle containing the three products listed below, of course the products are available separately as well.
To help you could quickly build minimalistic and responsive customized user interfaces tailored to the actual application and specific user role needs on top of Alfresco Digital Business Platform, Alfresco have made a framework built on latest web technologies
Alfresco Digital Business Platform is a platform that:
Is Open, Easy to Integrate & Extend

Built on an open source core with support for open standards and open APIs, while the Application Development framework reduces time to value for true business agility.

Help you Increase User Productivity & Collaboration from Anywhere

People can easily access content and processes from within the applications they use every day. Open Web & mobile apps and a wide range of partner integrations complete the picture.

Brings Content & Processes Together Seamlessly

Alfresco allows Content and Process to work together hand in hand to optimize the flow of information through your organization. Smart Folders, powerful rules and actions, and tools that let business users quickly and easily create their own processes are examples of the unique combination of capabilities offered.

Help you Simplify Information Governance

Reduce business risk and strengthen compliance with information governance capabilities that offer an unmatched combination of simplicity and control.

Is Enterprise-Grade Security & Scale

Whether you need to manage billions of documents or have high throughput, intensive processes, the Alfresco's modular architecture provides the resilience and scalability required.
Flexible deployment and hybrid cloud 
Alfresco is available as On-premise installation, Cloud Service and of course a well integrated seamless Hybrid of On-premise installation and Cloud service. Perfect for collaboration with external partners without the administration- and security burden of letting external partners access on-premise installation through your firewall.
Alfresco Enterprise Edition
Alfresco Enterprise Edition is a proven, tested version of Alfresco software that is provided as part of the annual Alfresco Enterprise Subscription. Alfresco Enterprise Edition includes document management, web content management, share and the content platform. Records management, as well as enterprise add-ons, such as clustering and a connector for content addressable storage, can be added as an additional subscription on top of the base subscription. Contact us to learn more about pricing for our Alfresco enterprise subscription.
No download, no install, fully featured
Try Alfresco Enterprise online now (14-day free online trial)
Customers
SMHI
Lyse Produksjon
Peas & Understanding
Västra Götalandsregionen