2020-04-02
With the Digital Ready Model we are exploring the foundations to achieve true digital innovation and the capabilities we believe that your organisation need to have in place to achieve the transformation you are aiming for.
In this blog post we will cover the Change Driver quadrant of the Digital Ready Model. 
These kind of projects, that are primarily transformation projects rather than traditional IT projects, sets a demand to prepare your organisation for change and find a way to motivate all your employees to rethink there way of working and explore new possibilities or face off new challenges brought by the outside world.
To achieve the transformation and change of mindset, you will need a set of Change Drivers in place to enable your organisation to rethink and provide assistance or good examples as guiding stars. To assist with your Digital Innovation initiative, we have defined a set of Change Drivers that we believe needs to be in place to support your project.
These are defined and expanded on below, not necessarily in any particular order of importance.
6 change drivers
Mandate for change
Communication
Training/recruitment
Business change manager/change leader
Proof of Concept - the success story
Employee involvement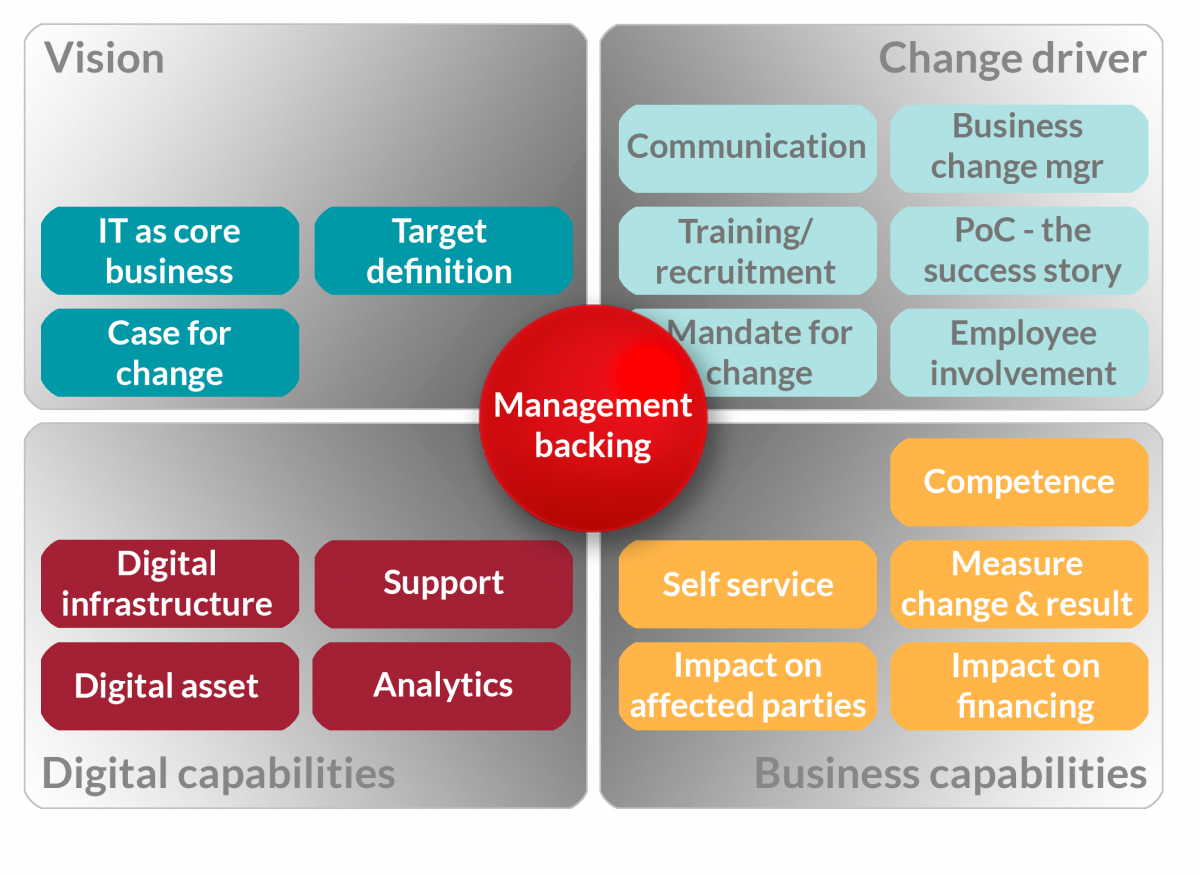 Mandate for change
If you have read our first posts in this series, you have probably already noticed that we decided to place a big red ball in the middle of the picture. This big ball covers all the four quadrants of the model and is simply called "Management backing". The reason for doing this is that we believe that the single most important factor to be successful with digital innovation initiative is to make sure that the initiative is well anchored and supported by your top executive team.
If this is not the case you will find it hard to gather the required resources to drive the initiative and it will be hard to catch the attention of your co-workers, as they will always have tasks that are more urgent. With a clear and strongly communicated top executive support, you will have the power and mandate for change required to gain attention and support for your digital innovation project.
This is why the first and maybe most important task before you start an initiative like this is to ensure that it has the right backing and support from top executive level, which will in turn give you the mandate for change required to stand a chance of being successful. Management backing will be an important factor in all steps of your transformation journey, so just do not settle with an initial support.
Make sure to keep your sponsors educated, informed and involved no matter where in the process your initiative currently is.
Communication
An important part of creating involvement and interest for your initiative is to keep everybody informed on what you are doing and why you are doing this. You will need to find a smart way to make sure that everybody receives and can digest the information that is important to them in this transformation program.
Think about new ways to spread information, maybe the traditional MS word style or Intranet way to document things are not the right approach for a brand new digital innovation initiative. Try to be innovative also when it comes to information sharing to mark the introduction of a new digital program. Maybe it doesn't have to stop at internal communication?
A new initiative of this kind is often something that can be used as a positive piece of information also for potential customers, potential employees or other parties that you want to interact with. Does your organisation want to be portrayed as a leader or a follower?
Training/recruitment
Working in new ways and introducing new tooling often requires new competence and knowledge. New knowledge and competence is often also required to rethink processes, work methods and ways of working to make use of new technology or information. To enable your staff to think in new patterns and make use of new digital capabilities they will need knowledge on how new technology can be utilised and affect their tasks.
As you introduce new digital capabilities it is important to make sure that the organisation understands how to use these to create the business change this transformation project is ultimately aiming for. It might also be that the required competence and influence you are looking for is not to be found in your own organisation.
This is where recruiting new key people can be a solution. This can be done either as straight forward recruitment of new employees to add a capacity or knowledge that you do not have today, or sign up the right consultants with drive and experience to guide your organisation through the digital innovation initiative.
Business change manager/change leader
As this is a transformation/change project, it is extremely important to also have the right people to lead the initiative. To lead an initiative like this does not require technical skills, but a lot is of course also about the ability to inspire and create a feeling of involvement for everybody concerned. It require presentation skills and experience from talking to and motivating people from various parts or hierarchies of the organisation.
Ideally you will find a person that has done this journey already, but it is not really necessary. It is more important to find the right person to drive the initiative than to find someone who has done this particular kind of project before (you will also find that they are very hard to find).
The best thing is always to identify someone within your own organisation with the right interest and drive to run the initiative, but if that is not possible you can always turn to external resources to assist with this or use externals for inspiration and support to your identified change leader. As always the key for this person to be successful in the role is to ensure that he/she has clear and solid management backing.
A change leader will always face resistance and/or have to fight priorities. The success rate increases dramatically with sufficient and undisputed management backing.
Proof of Concept – the success story
As with other change projects it is a good idea to have a success story to share with the organisation. It can be used to show the potential benefits of a digital innovation initiative and be used as a guiding star and motivator to get the rest of the organisation onboard.
A PoC is also a great tool to "pressure test" your ideas and concepts before rolling them out to the whole organisation. Use a PoC to test your ideas on a smaller, but representative, part of your organisation and use the findings of the PoC to fine tune your implementation model.
Other things that the PoC can be used for is to document guidelines, presentations and other material that will be used for the larger implementation project. This is why it is important to really make use of the PoC, plan it thoroughly and use the results to fuel your Digital Innovation project.
Employee involvement
As with any change projects, involvement and buy in are the most important factors to be successful. There are many theories on how to create involvement in change projects and we will not deep dive into all those in this blog post, but one can say that all above mentioned bullets are important to create involvement and interest in a digital innovation initiative.
Rightly played and carefully planned the above mentioned activities will assist in creating the involvement and energy that will be crucial for success. No one can manage to run and implement an initiative like this alone and since it must also include a business/organisational change and implementation of new processes, employee involvement is a condition.
The ability to understand, implement and use new processes and ways of working will be an effect of a successfully managed initiative on bullets like communication, training, change management and success stories. All of which are referred and elaborated on above. If you succeed with this and on top of that add a clear mandate and Management backing, you will be in a good position in the change driver quadrant of our Digital Ready model.

Written by
Fredrik Svensson